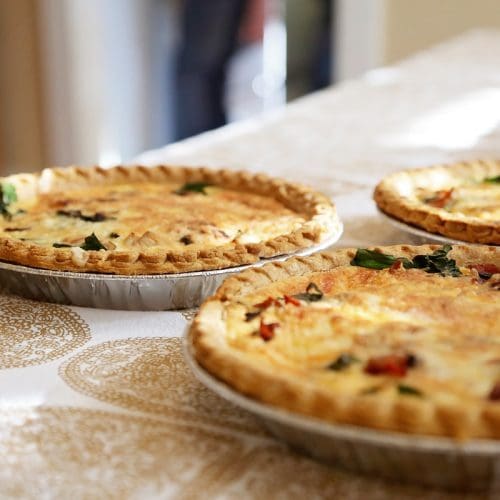 Homemade quiche recipe
Make flavorful Quiche! Works great for your next dinner. Make this meal and it will be a hit. Enjoy this simple and easy-to-make recipe.
Ingredients
8

ounces

thick-cut smoked turkey bacon/ ground sausage (cut into 1⁄2-inch pieces)

3

large shallots, thinly sliced

2

Tbsp

unsalted butter

3

sprigs thyme

¼

cups

half-and-half

¾

heavy whip cream

7

large eggs, room temperature

1

tsp

kosher salt

¼

tsp

black pepper

¼

tsp

cayenne pepper

Pinch of freshly ground nutmeg

4

oz

Gruyère, finely grated

2

oz

swiss cheese

2

Tbsp

chives – garnish on top
Instructions
Preheat the oven to 375°F.

Roll the prepared crust into a 12" circle (to fit a 9"pie pan). Prick it all over with a fork. Bake the crust for 10 minutes, then remove it from the oven and set it aside to cool.


To make the filling:Cook the bacon in a frying pan until crisp. Let it cool on a paper towel-lined plate. Once cool, roughly chop it up.

Dice the shallots into medium-sized pieces (about 1/2"). Melt the butterin a saucepan over me- dium heat and add the onion. Season to taste with salt and pepper. Cook until the onion has softened and is just starting to brown.Remove it from the heat and set it aside.

In a large bowl, whisk together the cream,half
& half, and eggs. Add the meat, shallots, thyme, cayenne, nutmeg,cheeses, salt, and pepper. Pour the mixture into the pie crust. Don't overfill.If you find you have too much filling, just leave a little
out, baking it alongside the pie in a custard cup, if desired.

Bake the quiche for about 40 minutes. The edges should be golden brown and the center should feel just set.

Remove the quiche from the oven and let it cool on a rack. Serve warm,or at room temperature. Refrigerate any leftovers. Enjoy!