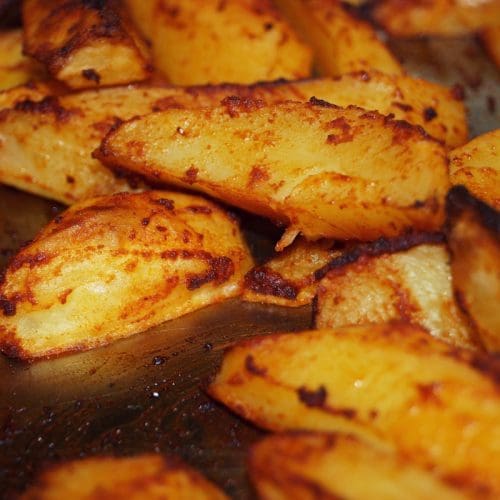 Fluffy baked potatoes
Addthese delicious Fluffy Baked Potatoes to your next home-cooked dinner. Thisrecipe requires no experience with cooking and is extremely easy to make. Besure to try this easy Fluffy Baked Potatoes recipe today!
Ingredients
6

Large Russet Potatoes (2-3 lbs.)

scrubbed and scored

Olive oil (for rubbing)

Flaky Sea Salt

Freshly Ground Black Pepper

Unsalted Butter

Chives

Cheeses
Instructions
Brushpotatoes with oil and season with salt and pepper.

Slitpotatoes 1⁄4 deep into a X design and bake potatoes for two hours.

Takeout of the oven and slice deep in potato cuts you made in sets of 2 – and bake10 minutes more!

After10 minutes pull out of oven and pinch/ squeeze the slides. You have now createda fluffy crispy potato!

Add your favorite toppings such as sour cream, chives, cheese, etc. and enjoy!